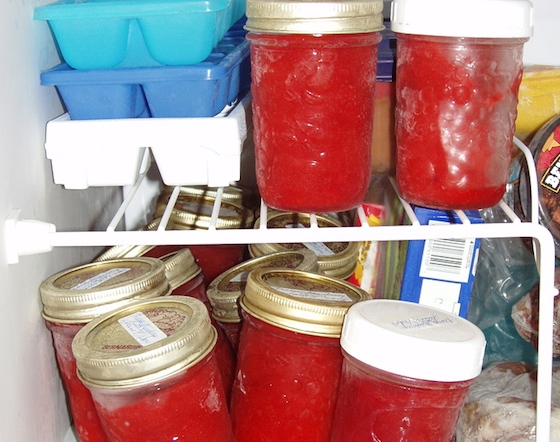 See all those jars? That's all strawberry freezer jam, friends. It just might take me years to consume all that. Not that it's bad—it's quite delicious, actually. But I don't eat jam with any regularity, and this stuff, being freezer jam, is particularly sweet, and I don't do "sweet" day after day.
This stuff is made by a wonderful old lady, Mrs. Dunn, who's been a friend of my father's family for generations. She lives in the town of Forest, Ontario, the same town where my father's father—my grandfather—built a small cottage on the shore of Lake Huron in the early 1940s. She and her husband used to take care of several cabins on the lakeshore in the Forest area when the owners went home in the fall.
Her husband, a Canadian Army World War II vet who fought in battles from Africa to Italy, passed away about 10 years ago, and she, with age, doesn't work anymore, but she remains a friend to the family, and my father visits her regularly when he returns to the lake each summer, and I try to visit her, too.
Mrs. Dunn does a lot of canning. And she also makes a ridiculous amount of strawberry freezer jam, and every time my father or I go up to the cottage, we come back with jars of Mrs. Dunn's famous strawberry freezer jam. As you can see, I can't keep up.
So why the story? I don't know. A little history. And I'm happy I discovered another use for the jam.
Last week, I had a three-quarter pound pork tenderloin sitting in the fridge that needed to be used that night or tossed in the freezer. I wasn't thrilled about eating pork that night, either, since I had just attended the Taste of Elegance at the Minneapolis Hilton the night before. What's the Taste of Elegance, you ask? It's a chef's competition sponsored by the Minnesota Pork Board. The chefs cook—you guessed it—pork. After sampling 15 different pork dishes (most very good, some shockingly good), I wasn't much in the mood. But I'm broke and I don't have an expense account through work with which to charge a meal, so I'm cooking more at home.
Fortunately, I spent some mindless hours watching cooking shows on PBS the previous Saturday, and saw a recipe for a pork tenderloin sauce on America's Test Kitchen: dried cherry port sauce with onions and marmalade.
The recipe, for two tenderloins:
1 teaspoon vegetable oil
1 large onion, halved and sliced 1/3-inch thick (about 1 ½ cups)
¾ cup port
¾ cup dried cherries
2 tablespoons orange marmalade
3 tablespoons unsalted butter, cut into three pieces
table salt and ground black pepper
This is basically a beurre rouge sauce with a twist, so I thought it was attainable for my ham-fisted skills. One problem, however: the only ingredients I had on hand were the port and unsalted butter.
I rubbed the tenderloin with salt and fresh ground pepper, and let 'er sit for about 20 minutes while I scrounged for something else I could use for a sauce, and made myself a whiskey sour.
I had shallots in the cabinet. That'll take the place of the onions. But no cherries (or any dried anything) or marmalade. Then I had one of those light-bulb moments: what's marmalade-y in texture and sweetness and has hunks of fruit in it? Mrs. Dunn's freezer jam! And, as the photo indicates, I got plenty o' that. OK, it's not the same as marmalade with orange zest, but, stick with me.
Heated a bit of vegetable oil in an ol' ten-inch pan 'til it started to smoke a little, then pan seared the tenderloin good and brown all the way around, then tossed it in my little chicken roasting pan and stuck it in the oven, heated to 400°F. (My oven is off at least 25 degrees, so I crank it up to 425—pick yourself up an oven thermometer—one of the best purchases you can make if you're a serious home-cooker. Or even if you're not.)
Took the pan I used for searing the pork and dumped in a little bit more vegetable oil and got the heat going about medium high. Since I was cooking only one tenderloin, I was cutting the sauce recipe about in half for the liquids, but pretty much just eyeballed everything. Chopped up a big clove from the shallot bulb (it was about half the bulb) and threw that in the pan and sautéed until soft. Poured in a wee bit of water to help scrape up the cooked bits of pork that hadn't already come off the pan.
It takes between 10 or 15 minutes to roast the tenderloin at 400°F before you yank it from the oven. Every chef I've talked to—and they said the same think on that Test Kitchen program—says to pull a tenderloin from the oven when the internal temperature hits 135 degrees. It'll continue to cook sitting on the counter. Yeah, yeah, I know all those fancy-schmancy electronic meat thermometers tell you pork must be cooked to about 160°. Well, the pork (and anything else) will continue to cook when it's sitting on your counter.
So pull the tenderloin, slap it on a plate, and the Test Kitchen folks say put a loose tent of foil over it. About 10 minutes and it'll be up to 145° or 150°, and you're good to eat it, and it should be a little pink.
While the pork rested, I dumped in about a half-cup of port, and reduced it until it thickened a bit. Now, for the dramatic moment—I pulled out a jar of freezer jam that was open in the fridge, dug out a pile with a soup spoon and stirred it into the sauce. It blended in nicely, thickening the mixture, lightened the color slightly and gave it a little shine, too. And those bits of strawberry pretty much dissolved. Any juice that's settled out of the roasted tenderloin on the counter, dump it in. Take it off the heat and whisk in your 1½ tablespoons (or so) of butter and you're done.
Now, as I said, I eyeballed most of this, it mighta been more port, etc. Basically, when everything was reduced down, it was about 1/3 of a cup of sauce.
I cut the tenderloin into roughly half inch wide slices, arranged on a plate, spooned on the sauce, and heck, it almost looked professional. Serve with your vegetable of choice (this is home cooking now, you don't have to worry about color schemes) and I must say it looked pretty damn good. And the whole meal took about a half-hour in assembly/cooking time.
Now the important part—the taste. I thought it was really damn good. It was pretty sweet, but that was cut nicely by the shallot, and on top of a tenderloin, which, face it folks, doesn't have the liveliest flavor, I thought was really nice. The only thing I will try next time is more fresh cracked black pepper on the tenderloin before the searing stage. I think that will really be nice against the sweetness of the sauce. And the lady friend's verdict?
"It's OK," she said.
Whatever.