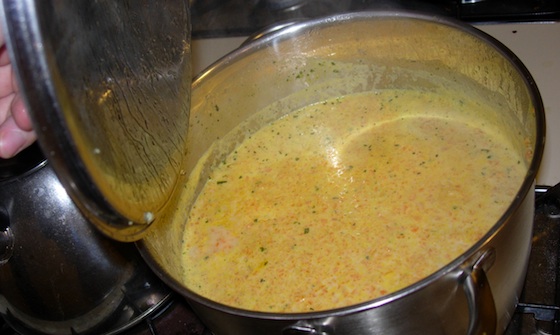 By MinnesotaMrs
This is a light, delicious, and beautiful soup. It freezes well and is a good way to use up carrots from a large fall harvest. This recipe was inspired by my mom 🙂
Ingredients:
 
10-12 carrots, cut relatively thin into circles
1 large yellow onion, cut in small pieces
2 cubes chicken bouillon
2 cups water
4 cloves garlic
1/4 cup fresh tarragon (about 6 sprigs, leaves only)
5 cups milk (pick your "percent", depending on the richness you desire. I use 1 percent unless I am cooking for a party)
Olive oil
Salt to taste

Directions:
Boil water and chicken bouillon in a large soup pot
 
Cook onion and tarragon in skillet with 2 TBS olive oil until the onions are mostly clear (cover pan if you wish). Blend in food processor or blender and add to the pot of chicken broth.
 
Cook carrots and garlic in skillet over med heat with 2-3 TBS olive oil until soft, cover the pan if you wish. Blend carrots and garlic in food processor or blender until fairly smooth. You may have to add some of the milk to help the blending process. Add this to the broth.
 
Add the remaining milk and season to taste with some salt. For a vegetarian version consider using vegetable soup broth instead of chicken.