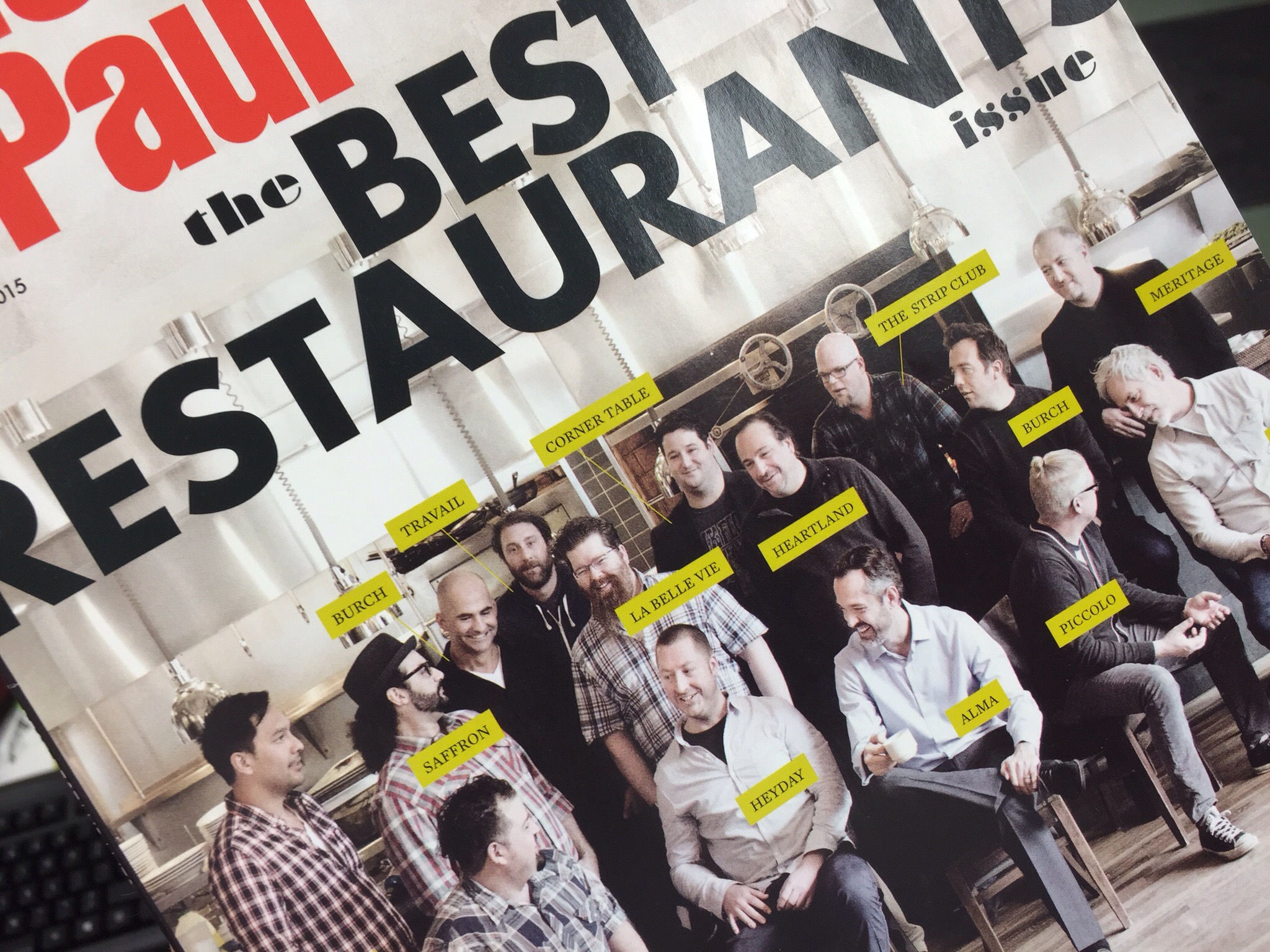 For all the hubbub the Mpls.St.Paul Magazine cover is causing, the issue might have been one to get buried under the pile, what with all the usual, recognizable chefs on the cover. I didn't look closely. I thought it was another "Top Chef" stroke piece, one I've been guilty of assembling in the past. So, I tossed it on the pile to read later.
I don't mean to sound derogatory. In my past life as managing editor of a food industry B-to-B rag, I have met every one of those chefs (except for Mr. Boehmer and Mr. del Prado, I was was leaving the scene as they were coming in) all of them are great people, and a few remain friends. Their praise is not undeserved. And, as a former managing editor, I know how much ad revenue comes in with a "top chef" issue.
But it's the same cast portrayed on the cover or within any magazine with any local restaurant coverage. As readers, we set the magazine aside. We'll look later. Maybe. Anyone who follows the Twin Cities food world (as worldly as we've gotten, we're still pretty small) knows their stories.
But my li'l ol' reporter brain that attended hundreds (thousands?) of city council meetings in my idealistic years didn't shut down. The cover made me think of the Time magazine "Gods of Food" issue from a while back, and the outcry at the lack of women represented in that list. But I still plopped it on the pile for later. Why? Because, I have a demanding job, and, like many readers, I've grown a little numb with local food coverage. And that's not a good reality for our local food writers.
See, about a year ago, there was plenty of criticism leveled at that Time story from Twin Cities food media, including from Stephanie March, food editor at Mpls.St.Paul Magazine.
It was her response to that Time story that in turn made her pre-emptive, damage-control-esque explanation of the current Mpls.St.Paul Magazine cover seem clunky, like my kid's shoe finding its way into the clothes dryer. (The Star Tribune strongly responded to the Mpls.St.Paul Magazine cover, giving voice to 22 prominent women in the food and restaurant industry. Mecca Bos also inked (virtually) a spot-on critique on the City Pages blog, although that was more "chef" focussed than "restaurant.")
The sad thing is the Mpls.St.Paul Magazine cover shot might deserve the same charge March leveled at the Time editors with in her January 2014 blog post:
"Time claimed that it was just reporting on the culture that exists, that it didn't set out to exclude women, which, to me, is either lazy or a lie. The national scene is a lot like our local scene—women are in every facet of the industry working and excelling, influencing what and how we eat every day. You have to WORK to exclude them, actively push them aside, which is what Time did. I guess I can give their team a pass for their shortsighted deism; it's Time, after all. They can keep pretending that they're 'influencers' while the rest of us pull up a chair to the table where the real discussions are happening."
Anyone who knows March knows she ain't lazy or a liar. For the record, I believe she isn't recognized enough for being the great, straight-up reporter of actual industry news that she is, and add the fact that she successfully manages a few writers who are their own media entities (with accompanying egos), she's the Phil Jackson of food editors in town. It's no small feat what she does over there.
Further, the cover shot for a big monthly glossy involves a lot of decision makers, and all dropped the ball for a similar reason as the one I used to toss the magazine aside to (maybe) read later: It's the same people that have been at the top for so long that we can't seem to pull our gaze a little to the left or right to change the view. Shrug shoulders, move on.
But that's a dangerous thing for any journalism genre.
If the Mpls.St.Paul Magazine cover "deciders" were able to tilt their heads (without moving their feet), they would have seen the women that should have been squeezed in there—and they wouldn't have had to compromise their "Best Restaurants" list. Because, y'know, you're talking about restaurants, not just another top chef list. If there was room for the three Travail guys, there was room for La Belle Vie's Pastry Chef Niki Francioli next to outgoing Chef de Cuisine Mike DeCamp (neither own a piece of La Belle Vie). If there was room for Burch Executive Chef Daniel del Prado, there was room for Nancy St. Pierre, who co-owns Burch with husband Isaac Becker. There was also room for Desta Klein and Mega Hoehn, very active owners with their husbands (chefs Russell Klein and Lenny Russo, respectively) at their establishments. Schedules, schmedules, you make it happen with all of 'em.
If anything, the cover shows that food media remains chef-obsessed, whether the chefs are the restaurant's owners or not, and despite all the hard work performed by the other business partners (males included; for example: J.D. Fratzke's there, which is much deserved, but where's Tim Niver?)