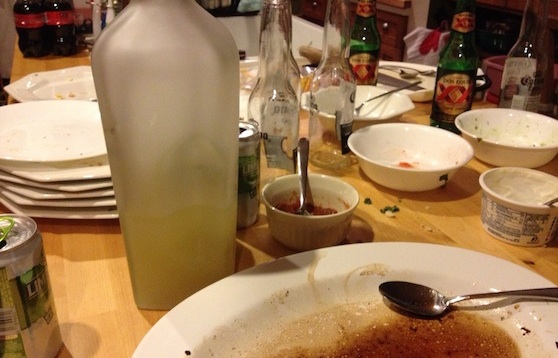 After a decade of writing about food and restaurants for actual publications, and, in particular, being the photographer for all my work, there is a food shot I've come to appreciate the most. And that's shown above. The "After" shot. There is much food porn to be had out there on pages and the web, and, yes, some of it is wonderful stuff. But, a lot of that stuff doesn't taste so good, or, in the case of the many ham-fisted attempts at Ferran Adria's molecular gastronomy brilliance, what looked beautiful was revolting in the mouth (thankfully, the overt use of those techniques is going away). And what is that singular food photograph anyway? It's food that has not been eaten, that has not been enjoyed, and, depending on the shoot, might have wound up in a garbage can. It's a pretty moment, forever unconsumed, except with the eyes. But that one, up there, that's the real money shot. It's food (and drink) that's been thoroughly enjoyed. It's record of a successful evening: friends meet, cook, eat, drink, talk, laugh. Dishes empty while stomachs, heads and souls are filled. That's a good shot to throw in once in a while. It leaves something to the imagination.
That pile of dishes is what happens when our gang meets on Thursday nights, a tradition that has lasted for about 15 years. Members come and go, but the core remains. Spouses have been added, and, recently, an infant, which has resulted in more cooking at our homes. Which brings me to this new segment, which we'll call Thursday Night Lights, at least until we think of a better title. We'll cook and document as best we can, and share it. Start your own gang. Cook—or don't cook, and order take-out. Just take time to sit with your actual friends face-to-face, not the virtual ones on Facebook.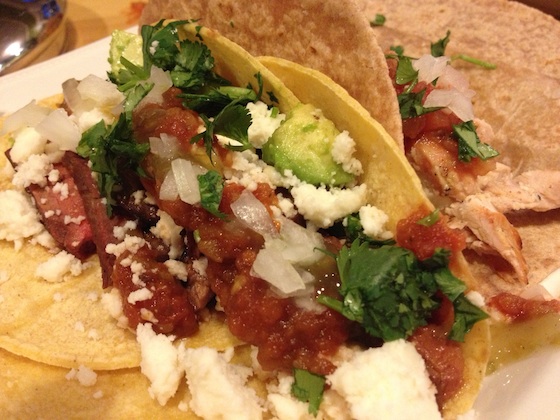 Those empty dishes above came from a taco extravaganza a few Thursdays back. MinnesotaMrs brought chicken soaked in some sort of Italian dressing marinade, I marinated a skirt steak in my go-to South Korean-type mixture. Yes, there's an actual food shot (above). The recipe for the steak marinade is below. I undoubtedly ripped it off from somewhere. I've made some tweaks during the years I've used it, but I still wouldn't go so far to claim it original. It adds great flavor to the meat, the honey's sweetness goes well with fiery salsas. The marinade should not be discarded: pour it in a pot and bring to a boil, and you have a fantastic dipping/barbecue sauce. Although not something you'd use for a taco night.
Korean-ish flank/skirt/whatever-steak-you-like marinade
Yield: 6
Ingredients:
2 pounds flank or skirt steak
Kosher salt
Fresh ground pepper
For the marinade:
1/3 cup olive oil
5 cloves garlic, minced
2 T. red wine vinegar
1/3 cup soy sauce
1/4 cup honey
Fresh ground black pepper to taste (I like a lot)
Method:
Mix together marinade ingredients. Score steak across grain with knife about an inch or so apart, cutting about 1/4 inch deep. Place steak in a non-reactive baking dish (glass brownie pan is awesome) or ziplock bag with marinade and coat well. Seal dish with cover or plastic wrap (if using) and stick in the fridge for a few hours or overnight.
After the soak, pull the steak and season well with the Kosher salt and pepper. REserve the marinade. Grill steak on a very hot grill, not long, no more than five minutes a side if using flank or skirt steak. Medium rare is best. When done, pull it, tent with foil (I use an oversize pan lid) and let rest for five to 10 minutes.
Move the steak to a cutting board. Dump accumulated juices into the marinade and bring that to a boil. With the steak, slice thin against the grain, at an angle if you wish. Once the marinade is boiling, reduce to a simmer for about five minutes. Use as sauce immediately or store for later use.